WorldTracker Data-Logger
Global Positioning Satellite Logging System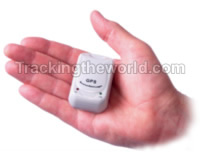 Actual size: 42 x 63 x 27.5 мм
Provides detailed reports including position, speed and distance traveled. Uses AAA batteries, cigarette lighter adapter power cord included. Features water resistant enclosure and suction mount.
Can use most mapping programs, including Fugawi, DeLorme and many more. USA mapping is included.
A complete and independent review of the WorldTracker Data-Logger is available at http://www.pocketgpsworld.com/worldtracker.php
Features:
Monitor any asset.
Global coverage on land or sea.
Smallest GPS data logger available.
Compatible with all mapping applications.
Comprehensive setup disc with video setup guides.
Built in antenna.
Technical Specifications:
PHYSICAL CONSTRUCTION
Dimension
42 (W) x 63 (L) x 27.5 (H) mm
Weight
80 grams ( + 5% ~ 10% or 10 ~ 20 grams) without cable
Receiving frequency
1575.42MHZ, C/A code
Enclosure
Corrosion-proof & poly carbonate resin
Construction
Ultrasonic welded
Mounting
Suction mount
LED Indicators
2 low current single-color LED lamp-Red & Green
Flash Memory Size
8 megabytes
PERFORMANCE
Antenna element
High-reliability ceramic patch
Antenna LNA
Gain: 23+/-2dB, NF: 2.0 max.
Receiver architecture
16 parallel channels, tracking & using up to 16 satellites with WAAS ability
Acquisition time
2 sec. average
Position accuracy
15m or 50 feet RMS
Velocity accuracy
0.1 Knot RMS steady state
Update rate
1 sec. continuous
Operation time
8 hours in continuous use after batteries are fully charged
Dynamics
Up to 50m/s.s. (Tracking sustained)
Power Supply
USB @ 5V, with reverse protection
Power Consumption
95mA @ 5V / 0.47watt max.
EMI filter
Rejects power line interference
ENVIRONMENTAL CONDITIONS
Operating Temperature
-30 ~ +75
Storage Temperature
-40 ~ +85
Humidity
95% RH non-condensing
GPS INTERFACE CAPABILITY
Output protocol
NMEA 0183
Standard output sentences

GGA: GPS position & Time

ZDA: time & date

VTG: course & speed over ground

GSV: satellite details

RMC: position, time, speed, course

Security Concepts can add other NMEA sentences to the standard output to maximize interfacing capabilities.
Logger Interval

RMC (01 sec.)

Others (00 sec.)

Built-in Logger Function
Available
Logging Data Interval Programmability
Available
COMMUNICATION
Protocol
NMEA 0183 at 4800 Baud rates
Signal level

USB Interface (standard)

Cigarette Lighter for automobile use

DATA CABLE (Mini USB-> USB with +5.0V Input)
Length
90 cm (standard)
Description
Multi-conductor shielded cable with USB receptacle with strain relief
Cigar Adaptor Cable (+12V ->5V)
Length
30 cm (standard)
Description
Cigar adaptor converts 12.0V DC to 5.0V DC and supply power